Nach einem echt tollen Flug von Auckland nach Hong Kong (Business Class, yeah!) bin ich im Lufthansa-Flieger schon gleich in den Genuss der Servicewueste Deutschland gekommen. Details spare ich mir, dann rege ich mich nur wieder auf. Nach einem kleinen gewitterbedingten Zwischenstop in Hannover bin ich auch nur noch todmuede ins Bett gefallen und am naechsten Morgen mit Kai gemeinsam nach Schottland aufgebrochen. Auch diesmal am Flughafen keinerlei freundliche Begebenheit. Wer als Auslaender in Frankfurt nur auf der Durchreise ist, muss denken dass die Deutschen keine eigene Sprache haben, sondern nur durch Grunzlaute und aggressives Ziehen und Zerren miteinander kommunizieren. Unglaublich.
Edinburgh dagegen hat uns super-freundlich empfangen. Wir uebernachten in der Travelodge, die genau das bietet was wir wollen: ein Bett und ein Bad. Kein Schnickschnack, aber fuer Edinburgher Verhaeltnisse erstaunlich preiswert. Da nimmt man auch schon mal in Kauf, dass es bis zum Konferenzhotel stramme 25 Minuten zu laufen sind. Da gestern Kais einziger "freier Tag" war, und er an allen anderen Tagen auf der Konferenz eingebunden ist, sind wir gleich nach unserer Ankunft zum Castle gestuermt. Alle 15 Minuten startet eine halbstuendige gefuehrte Tour, die aus mir absolut unverstaendlichen Gruenden ueberhaupt nicht nachgefragt wird. So hatten Kai und ich den netten Fuehrer fuer uns allein, die perfekte Gelegenheit die Burg kennen zu lernen. Da Kai abends noch arbeiten musste und ich ein kleines bisschen jetlaggeplagt bin, ging es frueh zurueck ins Hotel. Da um 4 Uhr in Schottland die Sonne aufgeht und die Voegel anfangen zu singen, war ich sehr frueh wieder wach, konnte aber zum Glueck wieder einschlafen, so dass ich hoffentlich den Tag heute gut ueberstehen werde… :-)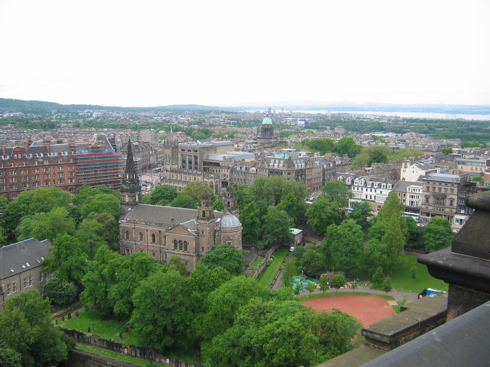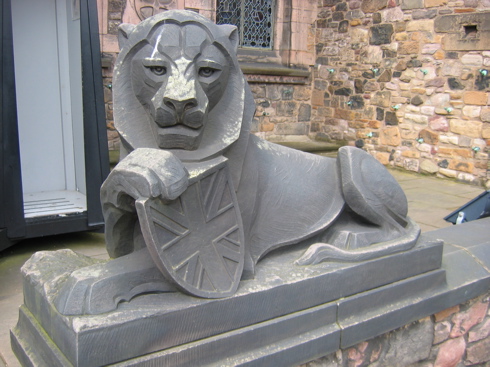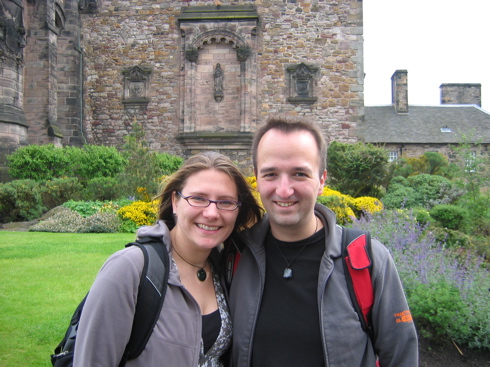 After a pretty cool and relaxing flight from Auckland to Hong Kong (business class, yeah!) I had the first encounter with the beauty of German service on the Lufthansa plane. I don't want to talk about details right now, it would only make me explode again. With mere three hours delay due to thunder storms over Frankfurt and a refuel break in Hannover I finally landed and went straight to bed. The next day we had to get up early again to catch our flight to Edinburgh. Again not a pleasant experience at the airport, people in transit must think that Germans don't have an own language but communicate only through grunting and aggressive gestures. Unbelievable.
But Edinburgh gave us a nice and warm welcome. We stay at the Travelodge, which offers exactly what we want: a bed and a shower. No schnickschnack, but compared to other accommodation in Edinburgh really cheap. Kai's conference hotel is a bit far away though, but we can live with this. As yesterday was Kai's only conference free day in Scotland, we went to see the castle and took one of the free tours with a really good guide. No one else was interested, so Kai and I were his only clients, which was excellent! We learned about all the guys Andy talks about all the time (like Rober the Bruce) and strolled around the castle after the tour for quite some time. Kai had to work in the evening and I'm still a bit jet lagged, so we went back to the hotel early. I hope to be able to stay up a bit longer tonight… :-)