Oh weh, was hab ich Schmerzen! Ich glaube, es gibt keinen einzigen Muskel in meinem Koerper, der keinen Kater hat. Gestern noch taten mir nur ein kleines bisschen die Fuesse weh, heute sind es die Waden, die Oberschenkel und sogar der Po. Hier kommen noch zwei Bilder, die ich aus Andys Facebook Fotoalbum geklaut habe: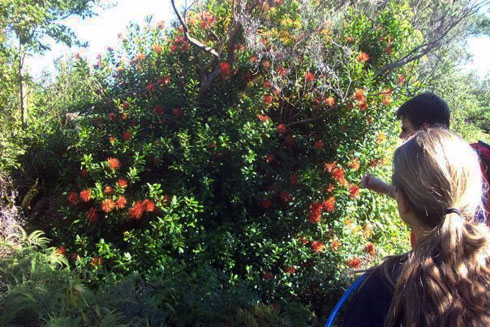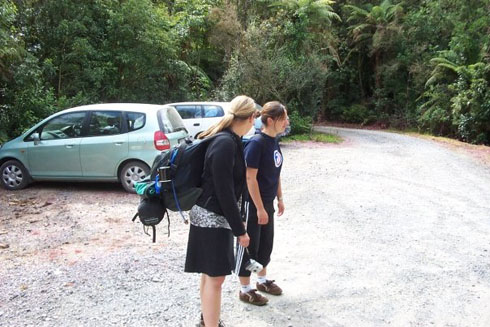 Ausserdem wollte ich auch nicht mein persoenliches Highlight der Tour vorenthalten: wir haben einen Tomtit gesehen! Ich mag ja Voegel sehr gern und hatte extra mein Vogelbestimmungsbuch mitgenommen (es ist klein und leicht genug), bin aber am ersten Tag enttaeuscht worden, da wir keinen einzigen Vogel gesehen haben. Auf dem Rueckweg begegneten wir dann aber einem Tomtit (auf Deutsch: Maorischnäpper), einer nur in Neuseeland vorkommenden Unterart der Meise. Sie moegen es, sich nah an Wanderern aufzuhalten, da sie mit ihren Wanderschuhen kleine Insekten aufscheuchen, die dem Tomtit als leckere Mahlzeit dienen. Ein freundlicher und drolliger Geselle!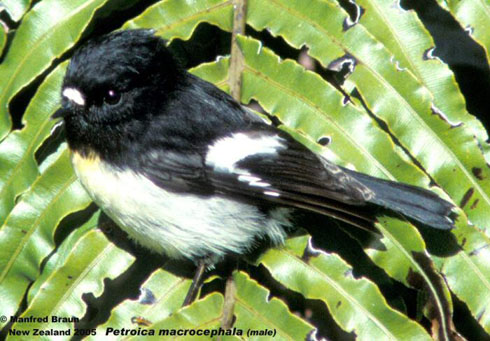 Oh this pain! My whole body is aching, every single muscle is sore, even my bottom hurts! Above are two more pics from the trip, stolen from Andy's facebook album…
I just wanted to add my personal highlight of the whole trip: we saw a Tomtit! I love birds and I even took my bird identification book (it's small and not heavy at all) and was deeply disappointed when we didn't see a single bird on the way up. But on the second day we met a Tomtit, it's a forest bird, native and endemic to New Zealand, that likes to stay close to trampers, because they disturb insects and spiders with their boots, so the Tomtit can chose its lunch. What a cute little thing!