Meine letzten Tage in Deutschland sind inzwischen schon einen ganzen Monat her. Trotzdem erinnere ich mich noch gut daran, wie es sich angefuehlt hat. Und zwar keineswegs von Trauer ueber nahende Abschiede ueberschattet, sonder eher von Heimweh gepraegt. Ich wollte nach Hause. Obwohl mir der Deutschlandurlaub sehr gut gefallen hat und es toll war, so viele Leute nach so langer Zeit wieder zu sehen (und vor allen Dingen zu merken, dass sich unsere Freundschaft nicht veraendert hatte, obwohl wir nun 16.000 km auseinander wohnen), wurden mit die letzten Tage einfach zu lang. Natuerlich habe ich Rotz und Wasser geheult, als ich zum letzten Mal bei Gabi und Co in Hilden war und mein Bruder mich mit seinem ultra-coolen 70er-Jahre-Wohnmobil wieder zu meinem Papa gebracht hat. Und natuerlich war super traurig, als mein Papa mich in Bad Nauheim abgeliefert hat und ich ihm beim Verschwinden um die letzte Kurve kraeftig nachgewunken habe. Und selbstverstaendlich ist mir das Herz echt schwer geworden, als ich Britta das letzte Mal am Osnabruecker Bahnhof fest gedrueckt habe. Und natuerlich hatte ich einen dicken Kloss im Hals, als ich mich von Marie verabschiedet habe, die waehrend meiner Zeit ein so aehnlich wie "Diane" klingendes Wort in ihren Wortschatz aufgenommen hat. Und trotzdem wollte ich nicht laenger dort bleiben, ich wollte heim. Zu Kai, zu meinem Haus, dem Meer, der Stadt, dem Kaffee und zu meinen Freunden hier. Denn das habe ich in diesem Urlaub gelernt, hier gehoere ich hin. Ausserdem habe ich gelernt, dass mein Papa bei Mechthild in sehr guten Haenden ist – sehr beruhigend. Am schoensten waere es eigentlich, wenn alle mir wichtigen Menschen nach Neuseeland ziehen wuerden. Kann das mal jemand einstielen?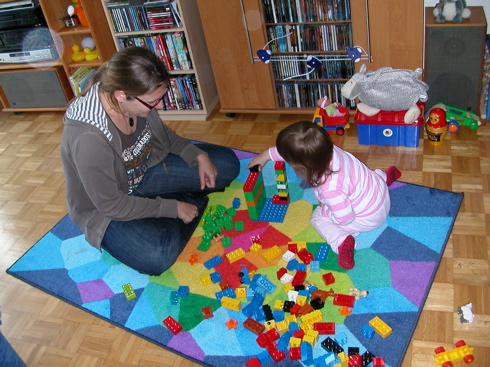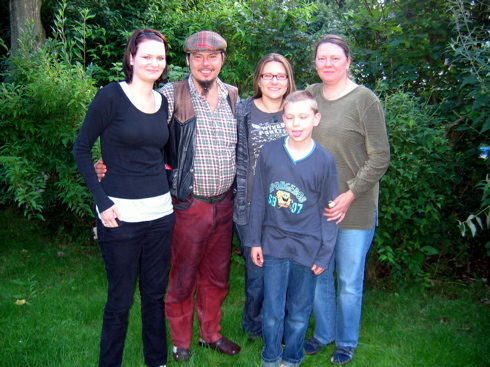 Nichte Sonja, Bruder Hannes, Diane, Neffe Stefan, Schwester Gabi

It has been more than a month since I left Germany, but I still remember the funny feeling I had during the last couple of days. It wasn't a feeling of grief or sadness, it was more like feeling home sick. Although the Germany trip was great and it was amazing to see so many people after such a long time again (and realize that nothing had changed although we now live 16,000 km apart), I really wanted to get back to New Zealand. Sure, I cried a lot when I left Gabi and her family for the last time when my brother took me back to my dad's place in his cool original 70s camper van. And I was unbelievably sad when my dad dropped me off in Bad Nauheim the night before my flight back. I had tears in my eyes when I gave Britta a last big hug at Osnabrueck station. And I was close to tears when I had to say good-bye to Marie, who had learned to say a word that sounds similar to "Diane" while I was over there. But still, I didn't want to stay any longer. It was time for me to get back home – to Kai, my house, the sea, the city, the coffee and my friends down here. Because one thing I have learned while I was away is that I really belong here, this is home. And I've learned, that Mechthild is really ok, she's good for my dad – that's really important, too. The best would be if all friends/family in Germany who are important to me, could move to New Zealand, too. Could someone please arrange this?