Nachdem ich vor einigen Wochen einen Podcast ueber die Skihalle in Bottrop gesehen hatte, war mir klar dass Skifahren diesmal auf jeden Fall auf meinem Urlaubsprogramm stehen musste. Zum Glueck habe ich ja Sportlehrer in meinem Freundeskreis und Frank ist seit neustem sogar ausgebildeter Skilehrer. Was lag da also naeher, als mit Britta und Frank in den Schnee zu fahren? Bei unserem ersten Versuch war die Skihalle geschlossen, so auch diesmal, aber immerhin waren wir diesmal schlau genug, uns vorher im Internet zu informieren. Und so sind wir kurzerhand nach Neuss gefahren, statt nach Bottrop.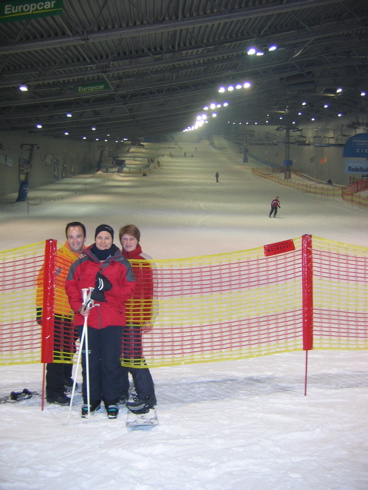 Diesmal war Kai auch dabei, und so konnten er und Britta snowboarden, waehrend Frank sich abmuehte, mir das Skifahren beizubringen. Anfangs habe ich mich ziemlich trottelig angestellt und hatte eine Heidenangst vor allem, was mit dem Schnee zu tun hatte, aber gegen Ende hatte ich die Angst ganz gut besiegt und bin tapfer sogar ein paar Kurven gefahren. Zur Staerkung gab's zwischendurch Spaghetti, Kaiserschmarrn und Almdudler (hatte ich, abgesehen von den Spaghetti, schon ewig nicht mehr!).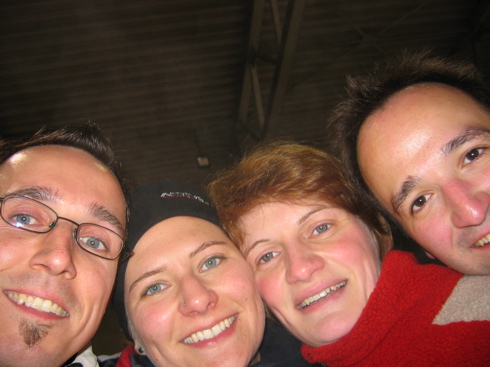 Bevor es danach ab nach Hause ging, haben wir noch einen kleinen Geocache gehoben. Anscheinend wurde auf dem anliegenden Parkplatz mit weiss-der-Geier-was gedealt, also hatte wir dort auch noch ein kleines bisschen Aufregung. Den Abend haben wir dann gemuetlich bei Frank verbracht, von wo aus wir noch zu einem Mini-Cache im Stadtgarten aufgebrochen sind.

Just a few weeks ago I watched a podcast reporting from the indoor ski hall in Bottrop, close to where my dad lives. From that day it was clear to me that skiing will be part of my holiday fun this time. Luckily I have some sports/PE teachers amongst my friends, and Frank is actually a ski instructor – so Britta and Frank had to go skiing with me. When we tried it for the first time we found the ski hall closed, but this time we checked the opening hours before we went there, just to find out that they were still closed. Fortunately there's another indoor ski opportunity not too far away, so we went to Neuss instead of Bottrop. This time Kai was with us, so he and Britta were able to go snowboarding, while Frank had to teach me how to move on skis. In the beginning I wasn't successful at all, I was so afraid of everything snow that I thought I would never ever be able to get down the hill. But in the end I even managed to change directions.
On our way back home we did a little geocache, this time one that was only accessible from a car park that was used to exchange dangerous substances. We spent the evening at Frank's place before we went out for a tiny night cache in a dark park.