Vor der Kapiti Coast lebt ein weisser Hai. Ja genau, KAPITI – dort wo ich Anfang Maerz mit JJ meinen Triathlon starten werde. Es ist ein "freundliches Weibchen" dass sich gerade in der Phase befindet, wo sich Fisch langsam von ihrem Speiseplan verabschiedet und bald herzhafte Seerobbe auf ihrem Teller landet. Ganz in Kiwi-Manier ist man hier natuerlich total relaxed. Einer der Taucher, die sie zuerst entdeckt haben, hat sich sogar nochmal mit dem Kopf unter Wasser tauchen lassen, um diesen Schnappschuss von ihr zu machen: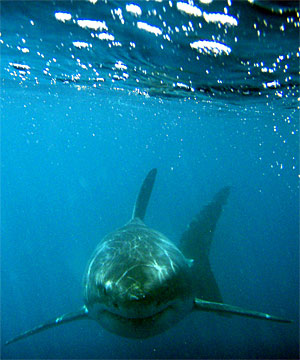 Fuer Menschen besteht in soweit keine Gefahr, als dass unser Fleisch den Haien wohl nicht schmeckt. Wenn sie ueberhaupt angreifen, dann nur, weil sie sich vertan haben und dachten, sie jagen einer Robbe hinterher. Also alles kein Problem, oder? Warum habe ich nur das Gefuehl, dass ich im Wetsuit von unten im Wasser durchaus fuer eine Robbe gehalten werden koennte???
Und weil ich JJ gestern Abend bei einem Glas Wein versprochen habe, in Zukunft eine kleine Zusammenfassung meiner Blogeintraege in Englisch zu schreiben (hauptsaechlich um meine eigene Haut zu retten, denn bislang nutzt JJ einen automatischen Uebersetzungsservice aus dem Internet, der leider of sehr fragwuerdig interpretiert), hier also die erste Minizusammenfassung. Mal sehen, wie lange ich das durchhalte und wann ich entnervt aufgebe (oder JJ mit Pistole auf der Brust zum Deutschlernen zwinge…)
There's a great white shark living at Kapiti Coast. Yes, it's exactly the place where JJ and I will do our Triathlon in early March. It's a "friendly female" and apparently she's just switching from eating fish to celebrating mammal meals. But as always, the Kiwis are quite relaxed about it. One of the divers who saw her first even put his head under water to take the "cute" picture above.
The media stated, that there's no risk for humans – apparently our meat doesn't taste good to a shark. Just in case of mistaken identity it could be that they go for a human instead of a seal. Why do I just have the feeling that I DO look like a seal when I'm paddling in the water wearing my wetsuit???